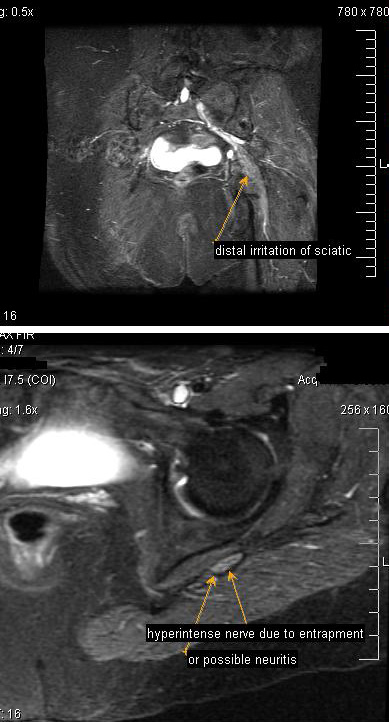 An example of Neurography nerve imaging.
MR Neurography - Nerve Imaging.
Attorney Aaron Filler is a practicing spine and nerve surgeon who is professionally active in research and dissemination of knowledge pertaining to spine pain and injuries. As a neuroimaging specialist, inventor, author and neuroscientist based in Santa Monica, California, Dr. Filler regularly uses magnetic resonance (MR) neurography for the good of his patients. He explains processes and expected outcomes in books and seminars. He serves as an expert witness in both plaintiff and defense legal matters.
For all these reasons and more, Tensor Law PC is a valuable source of knowledge, counsel and representation for spine and nerve injury cases. Whether for clinical treatment advice or for purposes of testimony in legal claims and lawsuits, Dr. Filler is prepared to provide state-of-the-art recommendations, interpretations and expert witness testimony.
Capabilities And Applications Of Neurography
MR neurography reveals mechanical distortion of nerves, hyperintensity consistent with nerve irritation, nerve swelling and distortion of nerves at entrapment points. It is a patented process (US Patent 5,560,360) requiring special equipment and skilled personnel to perform the imaging and neuroradiologists and neurosurgeons to knowledgeably interpret the scans. Through accurate analysis, these experts provide well-verified diagnoses and treatment plans.
These same procedures and experts have valuable information to contribute in support of legal cases on behalf of injured clients. Spinal injuries occurring through trauma such as traffic accidents or resulting from medical malpractice are the subject matter of cases for which MR neurography becomes relevant. Dr. Filler's PhD from Harvard University, his years of experience as a neurosurgeon and his extensive expert witness services have prepared him to advise any interested party with confidence, such as a spine injury patient or a civil litigation attorney.
Learn More About Neurography And Your Legal Matter — Schedule A Consultation
Get answers and help as you prepare to pursue compensation for an accident resulting in nerve injury. Call 888-374-3832 or send an email message through this website to request a consultation with lawyer, physician and medical technology innovator Aaron Filler. Move your case forward with strong scientific backing.